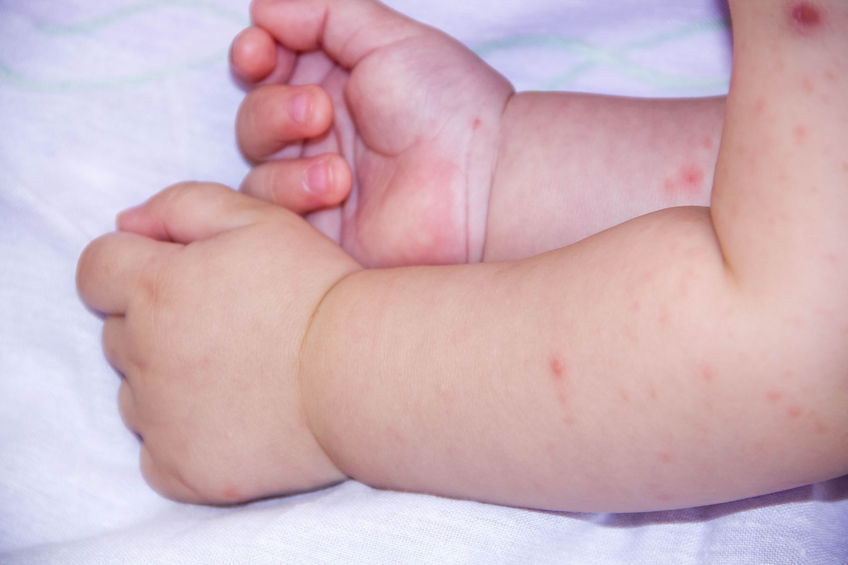 Watch Out For Red Rashes and Other Signs of Prickly HeatTuesday, 3 April 2018
---
Every parents would be devastated to see their little one turn from happy to fussy, due to prickly heat. Prickly heat, or medically known as miliaria, is a small red rash, itchy, and usually cause a burning sensation on the skin. This skin disorder happens as a result of sweat gland occlusion. Prickly heat can happen at any skin region of the body, but it usually appears on the face, back area, chest and thigh. This skin disorder usually occurs after heat exposure. When your little one has skin problem like red rash, you might be asking, whether the red rash is a prickly heat, allergic reaction or infection. The right diagnosis need to be perfomed by doctor after direct skin examination. However, you can tell the difference by the skin characteristics. Allergic reaction is usually manifested as urticaria, atopic dermatitis or eczema. Similar to prickly heat, allergic reaction can be triggered by heat exposure. However, in allergic reaction previous exposure to allergen usually preceed the complaint. The allergens can be animal fur, dust and certain food. In the case of prickly heat, the culprit of the disease is the occlusion of sweat gland, and the characteristics include:
small itchy stinging red dots.
Prickly heat usually develops when a person sweats more than usual, such as during hot or humid weather.
The symptoms of prickly heat are usually worse in areas that are covered by clothing. This is because clothing can make you sweat and the occlusion occur. This phenomenon would finally lead to prickly heat.
Lack of self-hygiene. Prickly heat usually happens to those that don't shower and clean their body frequently. The dirt on your skin can accelerate the occlusion of sweat gland.
Baby is more vulnerable to get prickly heat, because their gland has not fully developed.
Red rash can also be a sign of skin infection caused by virus and bacteria. But skin infection usually occurs with another symptoms like fever, cough, runny nose, and digestion problem. There are several things you can do to treat prickly heat:
Solve the culprit. Avoid heat and maintain your body temperature on the normal range. You can go to the room with air conditioning or near the fan. Clean your body with cold water. You can also use a cold compress, but don't leave it on the skin for longer than 20 minutes.
Wear loose clothing. Use soft material like cotton that easily absorb sweat. Avoid synthetic material.
Avoid heat and humidity. If you need to go outside, you can take an umbrella or use hat to avoid heat exposure.
Use calamine lotion to reduce the itchy and skin irritation.
If the symptoms persist, or another skin disorder happens like the occurence of pus on the skin lesion or the rash is extending, consult to your doctor immediately. If deemed necessary, your doctor may prescribe low dose hydrocortisone ointment to reduce the skin inflammation, or antihistamine to reduce the itchiness.