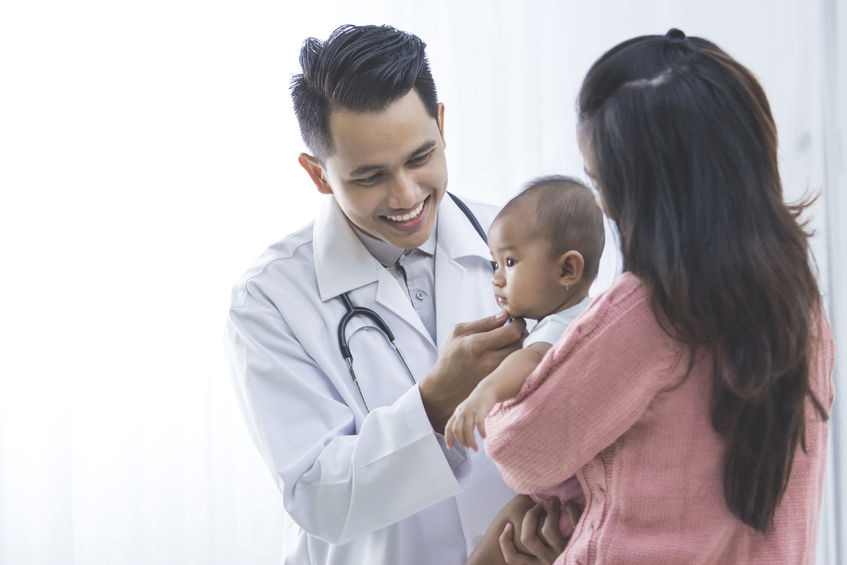 Bruised Skin and Nutritional Deficiency in ChildrenWednesday, 16 May 2018
---
The human body requires balanced nutrition from food to be able to function well. For the child, nutritious food is the main component to attain an optimal growth and development of their body. The effect of lack of nutrition in the first 1,000 days of life, which spans from conception to the age of two years old, is not only in terms of physical development, but also cognitive development that may eventually impact intelligence and thinking skills. Lack of nutrition in the first 1,000 days of life is also associated with an increased risk of chronic diseases in adulthood, such as obesity, heart diseases, stroke, diabetes, and other diseases. At the age of 6-24 months, the requirements for various nutrients increase and is no longer fulfilled only from breast milk. At this age, the child experiences a rapid period of growth and development, begins to be exposed to infections, and becomes physically active, so nutritional requirements should be fulfilled by taking into consideration the activity of the child and the presence of infection. To obtain a balanced nutrition, the child should be introduced to complementary food, while breast milk is still given until they reach 2 years of age. Based on the data from the WHO in 2014, Indonesia ranks 17th from 117 countries for the highest prevalence of wasting (thin appearance) and stunting (short appearance) among under-fives. "The issue of stunting does not stop at the height of the child. In the short term, deficiencies in iron and amino acids can affect growth and development, immunity, and cognitive function. Without adequate nutritional intake, in the long term, deficiencies in iron, iodine, zinc, and vitamin A can lead to a decrease in IQ and increased risk of diseases such as obesity and hypertension," explains Dr. Atilla Dewanti, SpA (K), an expert in infant and child health. How to assess the nutritional quality of the child? According to the Department of Health of the Republic of Indonesia, an anthropometric (body measurement) standard is required that refers to the standard set by the WHO in 2006. Several examinations that are conducted to detect malnutrition in health care centers are as follows:
Body weight, length, height, and head circumference measurements.
Clinical signs examination.
Comparison of measurement results to the reference for nutritional status evaluation.
Additional laboratory examinations such as complete blood count (from white blood cells, red blood cells, up to blood clotting examinations).
Aside from the ratio of body weight or height being below the normal category, or lack of sustained increase in the growth curve, the following are indications of malnutrition:
Behaviour: easily irritable, decreased responsiveness, difficulty to concentrate
Skin: changes in skin color to become more pale, dry, dull, easily bruised, and decreased fat layers
Nails: fragile nails, jagged, appears cracked
Hair: dry, easily fall out, changing color to brownish or reddish
Bones, joints, and muscles: brittle bones, joint pains
Oral cavity: easily bleeding gums, aphthous ulcers
Eyes: vision impairments (such as blurry vision), increased light sensitivity
To know the latest data, you should routinely bring your child to the pediatrician for evaluation. To ensure that the growth and development of the child proceeds optimally, ensure that the daily nutritional requirements of the child are well met.